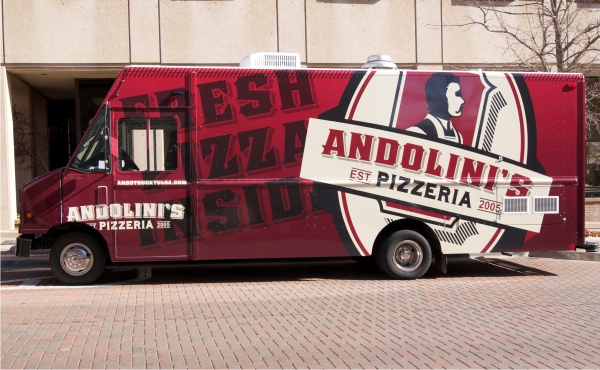 Andolini's Pizzeria operates two restaurant locations in Owasso and Tulsa, Oklahoma. The two brothers, Jim and Mike Bausch (World Pizza Champions)
have built their reputation by preparing everything from scratch, and using
fresh, superior quality, ingredients without additives. Book their truck for your
next event and visit their website: www.andopizza.com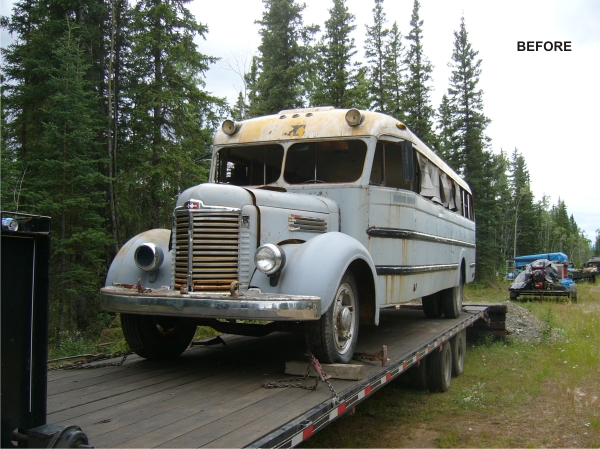 We found this old girl, a 1947 International KB7 in Toke, Alaska.
The last time she bussed kids to school was in 1968. She is now in
Manitoba getting a facelift and will soon be married up with the
Largest French Fry Company in North America! Watch for the outcome.
We should have her all dolled up by the summer of 2013!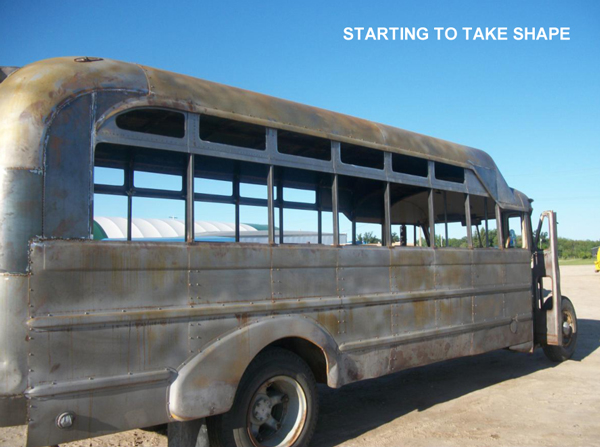 Jim from Bouwman Enterprises, our fabricator, raised her roof, gave her new window openings and patched her up. She's now going to Ray's Custom Paint & Sandblasting to get a little primer, mount her reconditioned body on a new chassis. She getting a new motor and tranny but we've all decided that there's nothing wrong with her headlights and she has a great rear end. We at Pizza Trucks of Canada are looking forward to getting our hands on her next. A hint, she's heading to a big city in Ontario. Follow the build-out on our Facebook page.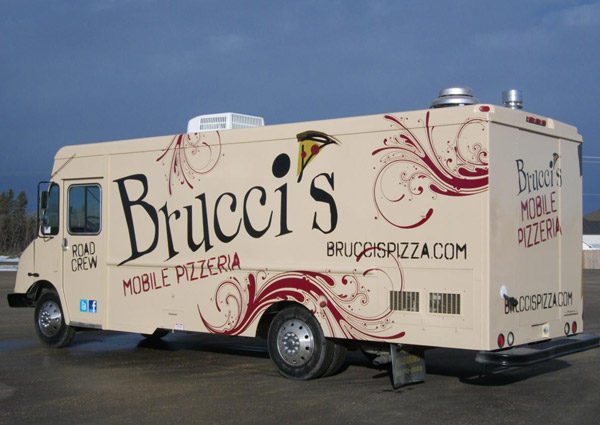 Brucci's Pizzerias are located in the Jacksonville, Florida area.
They have now added a mobile pizzeria to their restaurant chain specializing in authentic Old World style cuisine including pizzas, paninis and pastas.
Call the Road Crew for all your catering needs.
Visit their website for further information. www.bruccispizza.com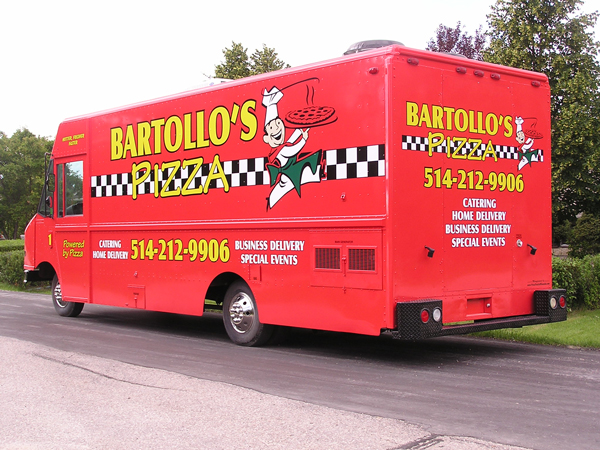 Bartollo's Pizza
is a family-operated business stationed at the Petro-T (a super truck stop) in the beautiful community of Kahnawake, Quebec. Kahnawake is on the south shore of the St.-Lawrence Seaway just 10 miles from the City of Montreal.
Bartollo's Pizza
offers pizza-by-the-slice and whole pizzas. They will be attending many special events throughout the community, especially the famous Kahnawake Pow Wow festival.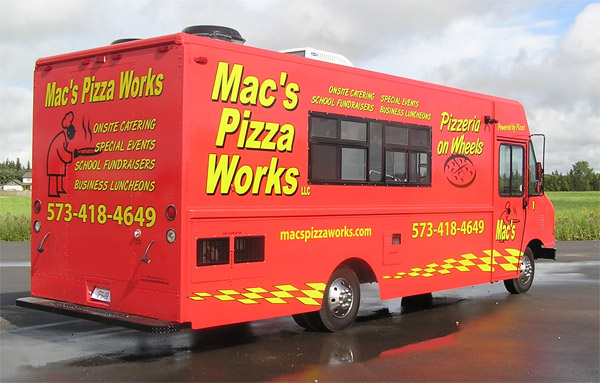 Mac's Pizza Works is a family operated business in Jefferson City, Missouri. Their custom truck has a 4' x 5' walk-in cooler, a 96" double, side-serving window, stacking ovens, double generators, double exhaust fans, stainless steel 3-compartment sinks and counters and roof-top air. Mac's specializes in On-Site Catering, Home & Business Delivery, Special Events and Pizza-by-the-Slice.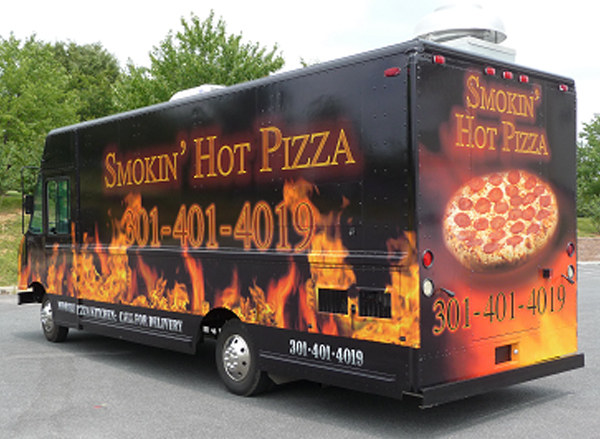 Smokin' Hot Pizza is located in Newmarket, Maryland. This unit is set up for massive production! It has a Lincoln Model 1451 propane oven with a 32" conveyor, which can bake 75 -100 pizzas per hour. If you are looking for lots of pizzas in a short period of time, this is the company to call!
We call this unit the Self-Contained Event Truck. It has a walk-in cooler, a side-serving window, a 72" pizza preparation cooler, double stacking Lincoln conveyor ovens, double onboard generators, double exhaust fans, and rooftop air-conditioning. This mobile pizza truck is the newest addition to the Old Town Pizzeria restaurants located in St. Johns, Newfoundland, Canada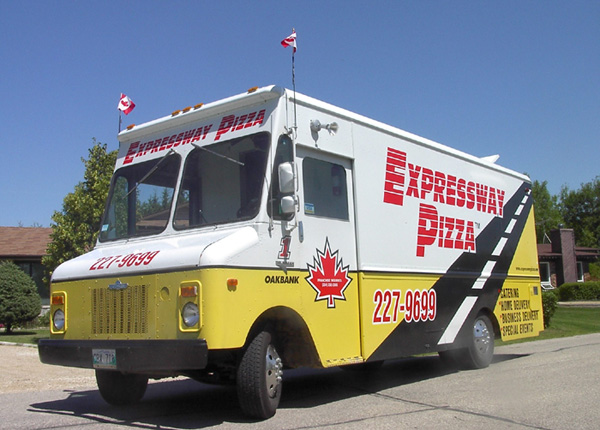 The Self-Contained Pizza Truck is a fully operating state-of-the-art pizza kitchen inside a mobile truck. You make and bake your pizzas fresh inside as you are delivering. This unit is designed for Home & Business Delivery, Pizza-by-the-Slice, Specials Events and On-Site Catering.
Excellent business for owner/Operators.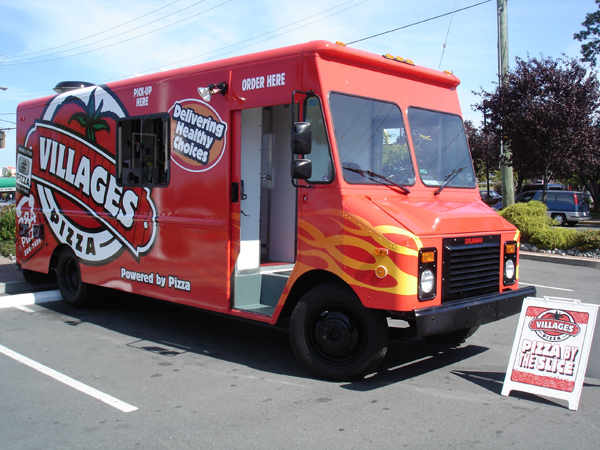 The Special Events Pizza Truck is designed for On-Site Catering, Festivals, Fairs, Sporting Events, Schools, & Corporate Functions. Pizzas are prepared in your restaurant and loaded into the truck. The truck enables you to take your already successful pizza name and product directly to your customers. No more setting up portable kitchens under tents to do special events!
Dominate the Events Market in your area.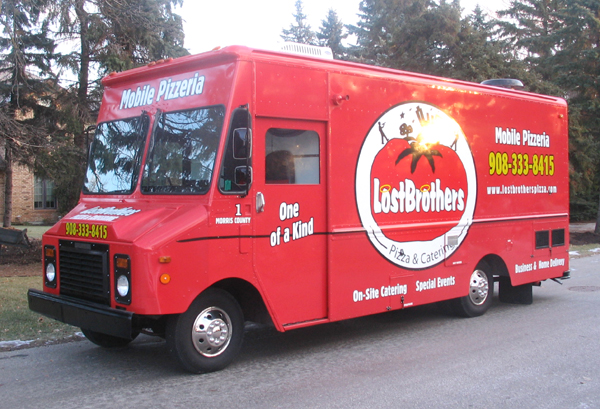 This Self-Contained Pizza Truck is definitely One of a Kind. It features double conveyor ovens, double exhaust fans, double generators and rooftop air conditioning. The Lost Brothers Mobile Pizzeria is based out of New Jersey. They specialize in Corporate On-Site Catering, Business Luncheons and Meetings.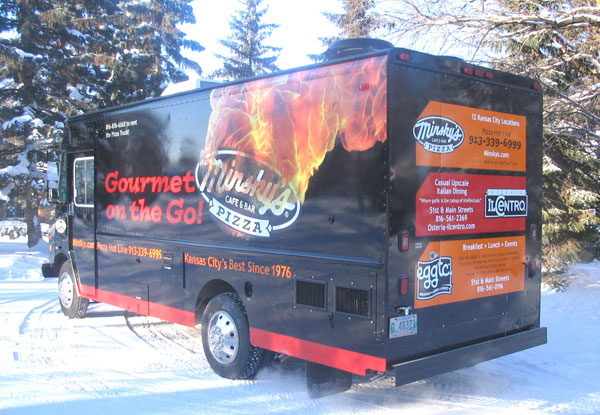 This Self-Contained unit is located in Kansas City. The Minsky's Chain now has Gourmet Pizza on the Go! Call any of their many locations and book their pizza truck for your event. They specialize in On-Site Catering, Special Events,
Festivals and Fairs.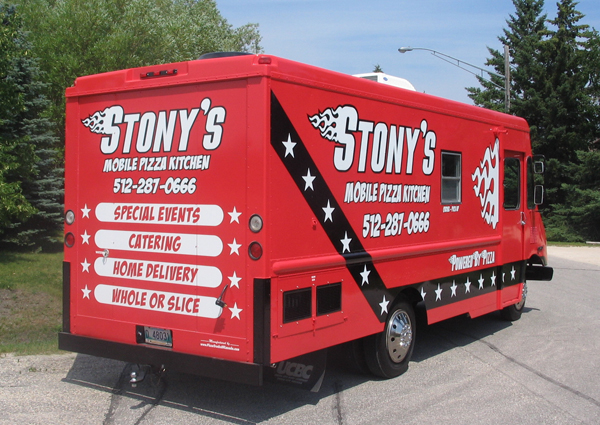 The Stony's Mobile Pizza Kitchen is located in Austin, Texas. It is the first
pizza truck in that area and owned by Steve and Tony, a father and son team.
They specialize in Pizza-By-The-Slice, Corporate Business Luncheons,
Meetings and On-Site Catering. Call the truck direct to book your event.