Santa Lucia Pizza USA is located in Fargo, ND. They offer fine dining in their beautiful five-star restaurant and you can also enjoy their award winning pizza in their two Take 'N' Bake locations. They've recently added a mobile trailer for
school lunches, corporate catering, and special events.
Call to book the trailer. Ph: 701-281-8656 www.SantaLuciaPizzaUSA.com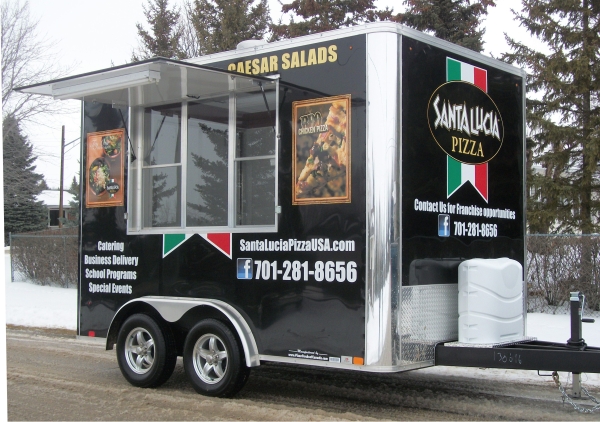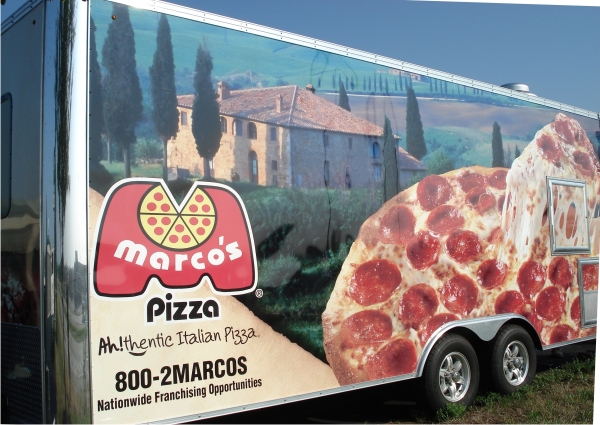 Marco's Pizza , the fastest growing pizza franchise in the United States since 2007 have recently added a mobile pizza trailer to one of their Cincinatti locations. For information on this exciting company or to book the trailer for your special event
call David: 386-566-7609 www.marcospizza.com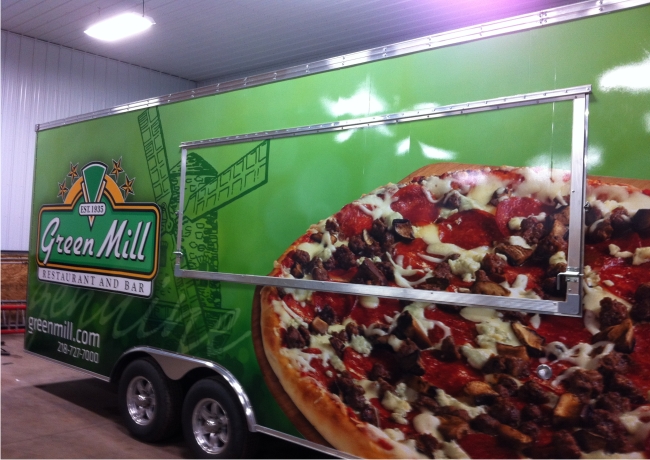 Green Mill Restaurant and Bars opened for business in the 1930's. Widely known as "Minnesota's Most Awarded Pizza" and most popular neighborhood restaurants and bars in the communities they serve. With 28 locations the Duluth restaurant now offers their award-winning menu from their new mobile pizza trailer.
For catering or special events: Ph: 217-727-7000 or visit them online. www.greenmill.com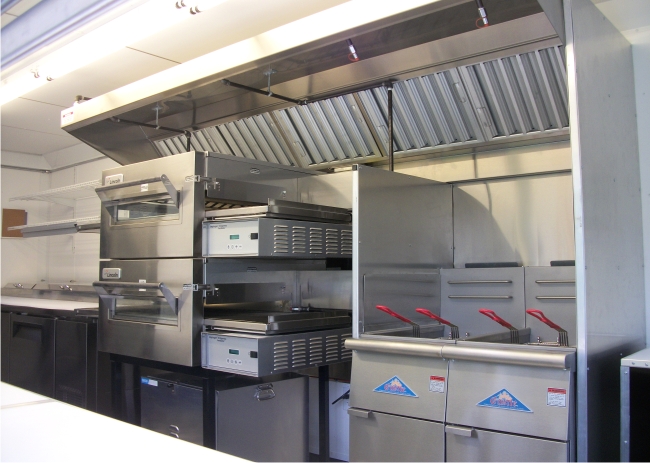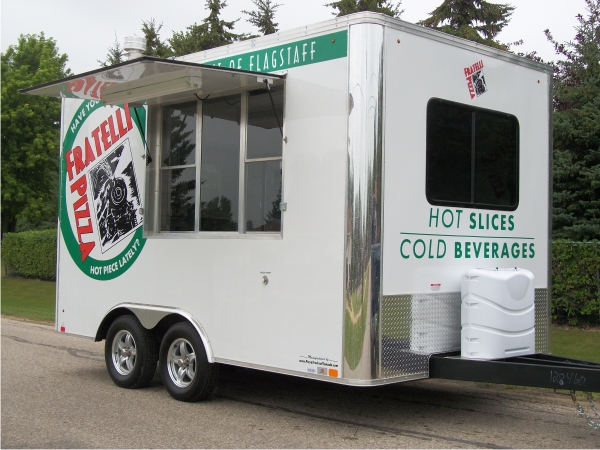 Fratelli's Pizza is located in Flagstaff, Arizona. Voted the Best of Flagstaff nine years in a row, they are now taking their fresh made pizzas to the streets! Call for catering information or visit them online. www.fratellipizza.net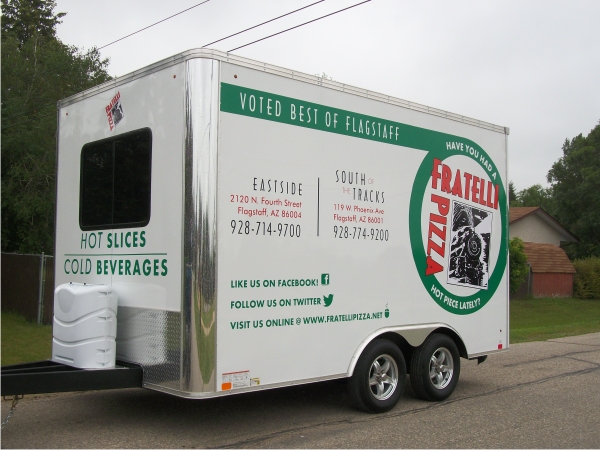 Fratelli's Pizza trailer is 8.5'W x 7'6"H x 14'L and comes equipped with a Peerless 2324P 4-tier deck oven, Turbo Air upright display cooler, and a Turbo Air 67" 2-door pizza prep cooler. Also has an 8ft serving window, 3-compartment sinks,
and a dough prep area. This unit is set up for all year-round operations . www.fratellipizza.net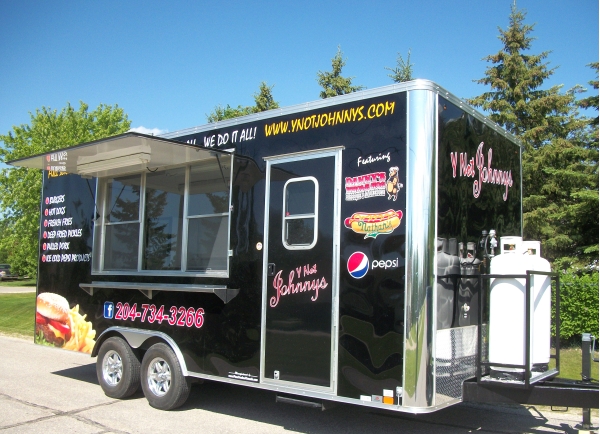 Y Not Johnny's is a full service licensed restaurant located in Swan River, Manitoba. Johnny's also offers a full line of in-house and onsite catering. Recently adding a mobile trailer; you will see their new unit at many events in Northern Manitoba, Dauphin Country Festival, Manitoba Summer Games, local community Pow Wows, festivals and fairs. www.ynotjohnnys.com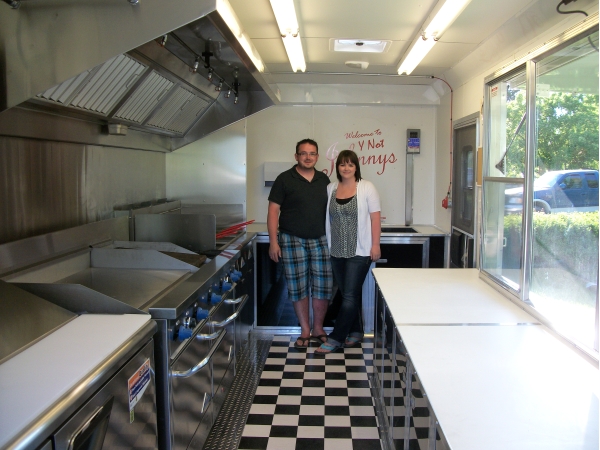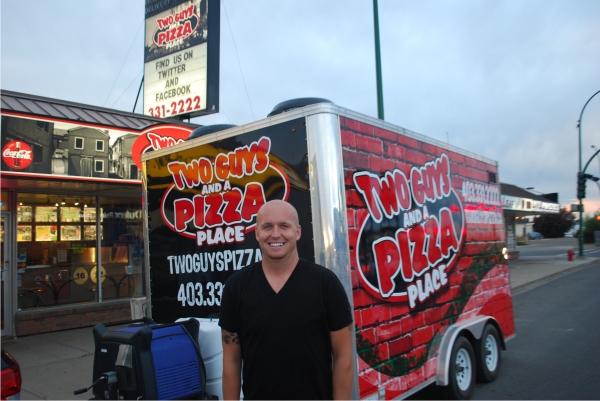 Two Guys and a Pizza Place is located in Lethbridge, Alberta. They were named Chef of the Year and Canada's Best Pizza for 2012 by Canadian Pizza Magazine, and also recently took 5th place in the non-traditional category at the Las Vegas International Pizza Challenge. Two Guys Pizza know how to make great pizza, pasta, salads, and more! They have over 40 pizzas on their menu. Visit their website to learn more about this exciting Canadian company. www.twoguyspizza.ca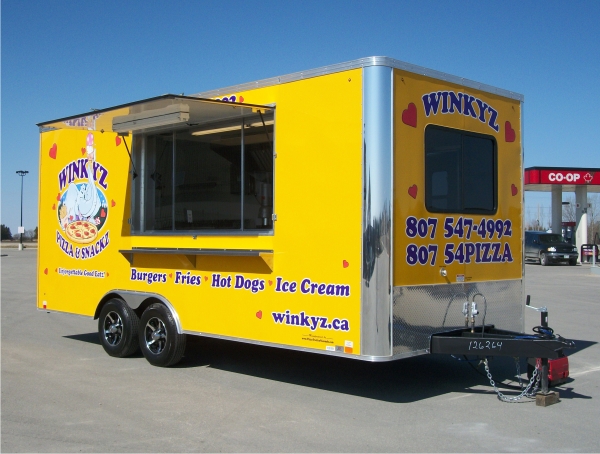 Winkyz Pizza & Snackz is located in the heart of Lake of the Woods cottage country in beautiful Keewatin, Ontario. At Winkyz, you can enjoy pizza-by-the-slice, whole pizzas, char broiled hot dogs, hamburgers, smokies, home cut fries, and ice cream! While enjoying your snackz you can browse through the garden center, which offers hanging plants, deck flowers, and unique gifts.
Visit www.winkyz.ca or www.plantz.ca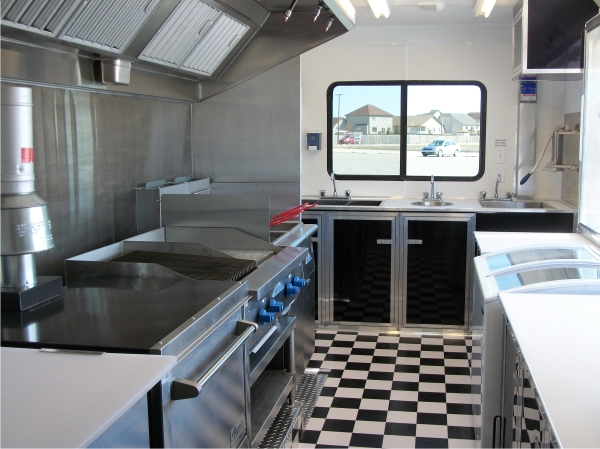 This tandem trailer 20' x 8' x 7'6" comes equipped with a Peerless C-131 deck oven, Castle Char-broiler, flat griddle, and 2 double fryers, Turbo Air upright display cooler, 2-door pizza prep cooler and 2-door ice cream cooler. Also comes with a
Hot Food Box pizza display warmer for slices.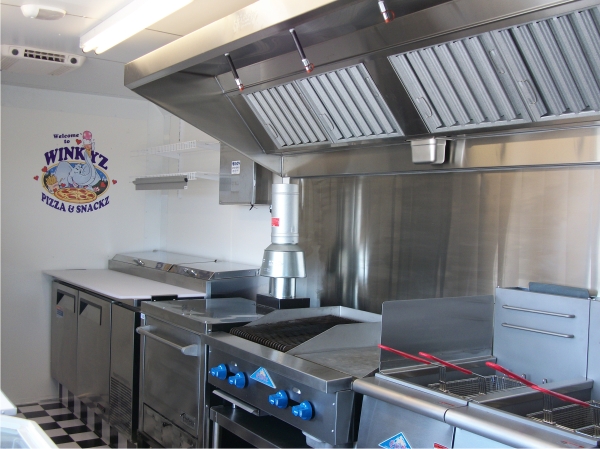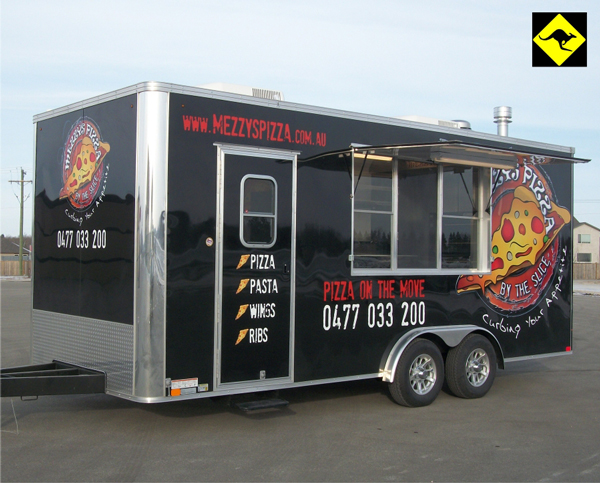 G'day Mates! Does this trailer look different? That's because it's towed on the opposite side of the road. Bazz and Marianne, the owners of Mezzy's Pizza are located in a small mining town in Western Australia. They will be offering corporate catering, pizza-by-the-slice, home & business delivery and special events.